What is a Property Chain & How Can You Avoid Them?
Moving home mortgage advice in Hull
During your process of moving home in Hull, it's likely that you'll come across lots of different hurdles and obstacles; if you don't consider yourself lucky! It could be something completely random that gets in your way, something you never thought would affect your moving home journey.

A recurring problem that trips up a lot of mortgage applicants in Hull is the property chain. Getting caught up in the property chain can slow down and in worse cases, put your moving home process to a stop!

Here is all about property chains, how you may end up getting wound up in one and how to avoid them.

What is a property chain?
A property chain is a string of transactions that are each dependent on all purchases and sales completing. If one of the transactions breaks down, this can have a knock-on effect on the rest of the transactions in the chain. For example, let's say you are selling your home and purchasing a new one.

Then let us say that the person who was looking to purchase your home suddenly pulls out. You were dependant on this sale to fund your new purchase, which you are now no longer able to make, which means you could possibly be holding up any transactions in front of you too.

Imagine it as an actual chain linking houses together. If one property purchase falls through, the chain potentially breaks and your property purchase may not go through.

Depending on the property chain that you're linked with, the chain size could be endless. If you're lucky, you may not have that many purchases in your property chain.

How long will the process take in a property chain?
This answer can change from chain to chain. It all depends on what situation your's, your seller's and your seller's seller situation is! It's very complicated… we know.

Property chains can run smoothly or badly, there's no real in-between. You may be in a property chain without even knowing. If the process is fast, you can assume that everyone ahead of you in your chain had their purchase go through fine.

If things don't work in your favour, you may get stuck in a waiting scenario. As a mortgage broker in Hull, we would strongly recommend starting the moving/buying a home at least six months before you're wanting to move in.

This amount of time allows room to find your dream home and time just in case you get caught up in a property chain.

What happens if my property chain breaks?
When a property chain breaks, it's quite unfortunate as there's not a lot that you can do about it, especially when it's further down the chain. You may be forced to wait or look for a new property.

If the property chain breaks at your purchase, acting quickly could save the chain from breaking. It can also help everyone else behind you. For example, if you're selling your property, you can contact the applicants who want to buy your property by contacting your estate agent; this way, you can inform them of the situation as early as possible. As long as you act quick, you may be able to resolve the issue that broke the chain.

There are ways to prepare for a break in the property chain if the break is not on your level; this includes, you could try and buy a property that isn't in a chain or in a small chain, sell your property and rent temporarily or buy a new-build property, etc.

For more moving home mortgage advice in Hull, contact our experienced mortgage team in Hull today.

How can a property chain break?
You'll discover that there are many different reasons why a property chain could break. It could be at any level during the chain:

The buyer's mortgage application was declined
A seller decides that they don't want to sell their property
A buyer/seller loses their job or becomes ill
The property survey that was carried out on the property lightened some major damages and structural issues.

This is just a small list of examples, there are many more. Sometimes it's just down to the length of the property chain to how drastically these situations will impact your ability to move home.

How can I avoid a property chain?
It's hard to 'avoid' a property chain, even more so if you're buying during a busy time of the year.

We would always advise that you do your research and talk to your estate agent and arrange your finances sooner rather than later. This puts you in the best position if a break in the chain were to happen. The more you are prepared, the better.

If you avoid property chain ('chain-free'), you should be able to move straight on through the moving home process.
However, you must remember that you'll need to provide evidence that you can afford a mortgage and provide a deposit for the property.

Thinking of moving home in Hull?
Are you thinking of buying and selling your home? If so, let our moving home mortgage advisors in Hull help!

Arrange your own free mortgage appointment online. Begin your moving home journey today and we will help you get through it stress-free! Our advisors can't wait to hear from you.
10 Factors to Help you Decide Where to Live in Hull
Looking at the various needs home buyers have when moving home
When it comes to moving home in Hull, one of the reasons people look for when searching for their dream property is the location. To help with deciding where you are happy to be in your new home, we have compiled a list of the top ten factors that could help. 
Hustle and bustle of the city or relaxing countryside
It's best to establish where you would prefer to live because the property you are wanting might be the place you settle down and start a new life in. Your preferences could include the bustling 'big city' atmosphere. Alternatively, you may thrive more in a quiet, scenic, and rural landscape. There are both pros and cons to each option and is something that is down to your personal preference.
Transport links
Factors you should consider when deciding on a location are your transport links. Make sure the location fits in well with your regular commutes to work and with what you like to do in your free time e.g., shopping in the city center or enjoying time in a rural area. Either way, it's good to know what type of transport links are available to you as well as the costs of these links. 
Schools & education
In the circumstance where you have children or you plan to have some in the future, the schools in the area may be something to look at. Therefore, you may want to research which schools are within the catchment area of the property as well as having an idea of what the schools are like. 

This can be done by looking online at the school league tables, which can provide you with more information to help you find which school is the best option for your area.
Facilities
Thinking about if the location fits well with the facilities you need or desire is a factor you may want to consider. It's helpful, however, it's good to determine which factors are must-haves and which ones are more of a preference as this will help you with deciding if the location is best on a practical level. For example, the location may not have a gym which you could prefer but has a shop within walking distance. 

Many people prefer having a shop on their route home from work and some prefer to have a gym on their route home from work. When it comes to families, some prefer having a park nearby for the kids.
Friends and family
For some, having friends and family within a short distance of them can be important. Many prefer this as they can rest assured someone is there to support them when there in need. On the other hand, this may not be a priority for you, or you prefer peace and quiet instead of socialising regularly. 
Value for money
Finding that property that is "good value for money" can be dependent on which area you're looking at. If you're looking to find a property, and you want to get the most out of your money, then it might be best for you to find somewhere that is a little cheaper. In this case, you may need to dismiss some of those factors you desired.
Community
Your experience of living in the house can be affected by the local community. The type of neighbourhood you might prefer could be small and close-knit, therefore, have a word with the estate agent or research yourself what the community is like there.

It's common that areas have a community Facebook group or a dedicated local website. If you are looking at living in a more quiet area and community is a factor that isn't important to you, maybe use your time to look into the reputation of the area.
Jobs
A new job or career can be the reason that you change location. Therefore, it's probably good to think about how far the is from where the property is where you want to buy. In cases where you're job hunting after your home move, it's best to do some research before as to what sort of work there is in the local area and who the main employers may be. 
Property type
In terms of property types, there a lots available on the market for home buyers. You may prefer a property that is an end-terrace with a beautiful garden or you may want a super modern, inner-city apartment, therefore, make sure to look at a range of different options that are available to you and see what property is appropriate for you.
Investment
Proposed investment within the local area can be beneficial to know if you're looking for a property to settle down in for a while. Looking online can help you find out if there are any future investments in the local area, as well as helping with deciding if this is the best location for you. Consider if any of these investments will benefit you and the lifestyle you are looking at. For example, if you are looking for a quiet life in a rural area, a new housing development nearby may ruin your ideal housing scenario.
Moving Home Mortgage Advice in Hull
Divorce & Separation Mortgage Advice in Hull
Divorce or separation is not something we ever prepare for. We live for the moment and embrace the feeling of love, so if something unexpected happens and this ends up becoming a reality, your perfect world can sometimes become a little complicated. It can affect ownership of belongings and pets, your children, your finances and more.

We find that in most situations where children are involved, the parent who spends more time raising them, say a stay-at-home parent, will stay in the property with those children whilst the other moves out. There may come a time that whoever is "in situ" wants to take over the mortgage in their own name. Alternatively, maybe both parents want to leave and start anew.

One of the biggest things that may become complicated is any mortgage commitments you made together. If sorting this out isn't going quite so smoothy, it may be time to approach a mortgage broker in Hull to get that the specialist mortgage advice that you need.

As an experienced and dedicated mortgage broker in Hull, we deal with specialist cases every single day. Through our years within the mortgage industry, we have been there to support and guide many different customers who were going through a divorce or separation. When those people do get in touch, we often find ourselves being asked the same three questions:
How do I remove my ex-husband/wife from my mortgage?
How do I remove my name from my ex-partner's mortgage?
Can I have 2 mortgages?
How do I remove my ex-husband/wife from my mortgage in Hull?
Once you have already made your mortgage commitments, changing these can be a difficult process. Both of your names are on your mortgage and as nice as it would be, it isn't just as straightforward as speaking to your lender and asking them to take your now ex-partner off the contract.

When you approach your lender or a trusted mortgage broker in Hull to enquire about removing a name from a mortgage, they will have to be sure that the remaining applicant on the deal is able to afford their mortgage completely, without the assistance of another party.

Each of you will have to receive a full affordability assessment regardless of whether you have kept up to date with your mortgage payments or not. You may even be able to prove that you have been paying your mortgage payments without any help from your ex, but this will not change the fact their name is tied into the deal and you'll still need to pass the lenders checks.

At this point in the process, we often find that people have someone already ready and willing, who can step in and replace the ex-partner on your mortgage. This is usually a family member, a close and trusted friend or in some cases, a new partner altogether.

Every lender will assess your affordability for a mortgage in their own unique way, so don't give up if your existing lender is unable to help you out. There may still be other options available to you as a homeowner, so it is always worth seeking the help of a mortgage broker in Hull to see how we can help you out.
How do I remove my name from my ex-partner's mortgage?
This will work the same as if you were trying to removing another person's name from your mortgage. Both of your names are still tied into your mortgage so even if you are the one who chooses to leave, you are ultimately still responsible for any mortgage payments if your ex-partner cannot keep them up.

Even if you have a verbal or written agreement between you both that your ex will be the one maintaining payments, this is not legally binding in the eyes of the lender and you will be deemed responsible.

If at any point in the future you wish to take out a mortgage on a newer property, solely in your name, the mortgage payments for your old property will be taken into consideration by the lender. As such it is very important to take this into consideration prior to doing so and is why we always recommend getting help from a professional mortgage advisor in Hull ahead of time.

In these kinds of circumstances, we find that people can often get confused and stressed out, which is exactly where a fast & friendly mortgage advice team here at Hullmoneyman can step in. One of our loyal and hardworking mortgage advisors in Hull will sort everything out for you and recommend the most appropriate options available to you as someone who is now moving home in Hull. We will always have your best interests at heart

Some lenders are more generous as regards how much they'll lend you than others. Some are strict and some may be more lenient, with any existing mortgage commitments being a large factor in this during these circumstances. We will take this into account when recommending the most suitable lender to apply for a mortgage agreement in principle with.
Can I have two mortgages?
For many homeowners, depending on varying factors, the option to have more than one and even more than two mortgages on different properties is a possibility. There will be a lot for your lender and their credit scoring systems to assess when you apply for a second mortgage.

The main factor, much like above, is determining whether or not you can afford this route. If you are applying for multiple mortgages and are failing, this could have a very negative effect on your credit score.

As a fast & friendly mortgage broker in Hull, we have the ability to perform a search for you without damaging your credit file. Once we have keyed in all of your information, we can provide you with an estimation of the maximum amount that you will be able to borrow.

This will help you create an outline of your budget and how much your monthly mortgage payments are roughly going to be on top of your existing financial commitments.
Dedicated Mortgage Advice in Hull
It can be difficult to move on from your current financial commitments, especially in situations like these. This is why having an expert advisor by your side will be incredibly beneficial to you in the process of setting yourself apart and removing a name from a mortgage.

Moving home is already a stressful enough experience and if you add that to a complex situation like a divorce or a separation, it can sometimes all get a bit too much. Get in touch with a mortgage advisor in Hull today and we will see how we can help you.
Reasons Your Mortgage Application in Hull Might Been Declined
Specialist Mortgage Advice in Hull
As a Mortgage Broker in Hull, it's not unusual for us to receive enquiries from First-Time Buyers in Hull like yourself who have recently got turned down for a mortgage from the bank. Going directly to a bank/building society for a mortgage should seem straightforward, but it can be more complicated than it looks.

You may have heard of the term 'mortgage maze', where every lender seems to be a dead-end, and you can't quite find the one that will get you out the exit.

The good news is, this is where we step in, our job as a Mortgage Broker in Hull is to get you out of this maze. We've been in this maze before, and we know the challenges that come with trying to find the right lender.

Our team will help you find the right lender for you with a tailored product to match your financial circumstances. Here we will cover with you why you could be struggling to get accepted for a mortgage and how we may help.
Going directly to a lender
Failing a credit score for a mortgage
To get accepted by a lender, you will first have to pass their credit score criteria. Each lender will always have its own unique credit scoring method, and some will be more complicated and harder to pass than others. Some lenders have even built their niche audience, so they may only offer specialist deals targeted at applicants with lower credit.

Lenders with the lowest interest rates will likely have the most arduous lending criteria, and usually vice versa. A lender will offer a better product to someone with a high credit score and carry a trustworthy credit history behind them over an applicant with a low credit score with a CCJ(s) or Default(s).

If you go directly to a lender without doing your research, you may be far off their lending criteria, and you could end up being declined. This can harm your credit file when you apply again through another lender, and they will see that you were denied. This is why we always advise that you don't keep using lots of different lenders, as the more you are rejected, the higher the negative impact you are putting on your credit file.
Your Mortgage Broker in Hull is here to help
Before submitting your mortgage application to a lender, we will first check that you match the lender's criteria and are likely to pass their credit scoring. We aim to get it right the first time!

Our job is to find you a deal that we know you will love and match perfectly. This applies to everyone regardless of their situation. Bad credit or good credit, we will try our hardest to pair you with a great mortgage deal through a lender that will accept your mortgage application.
Economy's effect on the mortgage market
We've seen applicants struggle to get accepted for a mortgage due to the economy. For example, during the credit crunch in 2008, it was tough to obtain a mortgage no matter your credit history. Lenders lost all of their confidence in the market. They show that your chances of struggling to get a mortgage are likely to increase if the economy is suffering.

If you are struggling to get a mortgage because of the economy and the mortgage market, you may have to hold back your mortgage application at the moment. Sometimes, it may be better to keep building up your deposit so that when the market eventually bounces back, you have even more funds to aid your mortgage deposit. Furthermore, this may even increase your chances of being accepted too.

During times of economic crisis, in the UK, we've seen deposit requirements go as high as 25% of the property's value. On the contrary, if you were looking to Remortgage in Hull in the middle of this period, you will have access to better rates and products.

Whether you're remortgaging or carrying out a product transfer, you won't need to provide a deposit as you are simply switching products and will still have the equity from your original deposit. You are likely to have more equity if you have been on a repayment mortgage.
Improving your credit score in Hull
If you are being declined for a mortgage due to your credit score, you need to start looking at ways to improve it. There are lots of methods you can do to try and improve your credit score. Here are some of the ones that we recommend:

🏠 Check whether you're registered for the voter's/electroral roll; if you aren't, get registered! It's friendly and easy to do and can boost your credit score.

🏠 Avoid unnecessary credit searches as they can show up on your credit file and sometimes reduce your score.

🏠 Don't run too close to your maximum limits. Running into overdrafts and not paying off credit cards each month can reflect poorly on your credit score.

🏠 Validate that your address is up-to-date across all of your accounts. This includes credit cards and store cards.

🏠 Close unused credit accounts. This can also reduce your chances of falling victim to fraud.

🏠 Remove financial links to others. If you unknowingly have a financial connection with someone else's name, it could be doing more harm than good.
There are more ways than you realise. So if you have a low credit score and need credit score Mortgage Advice in Hull, make sure you get in touch with our responsive team, and we will see how we can help.
Get help from a Mortgage Broker in Hull
If you are struggling to get accepted for a mortgage in Hull, it may be time to get in touch with a Mortgage Broker in Hull like us for help.

Being an expert Mortgage Broker in Hull has allowed us to gain valuable experience and deep insights into what lenders are looking for in mortgage applicants. We know all about lender's credit scoring systems and their lending criteria, allowing us to search for a deal that we know will suit you and you're likely to match with.

Once you get in touch with us, we will pass you onto a Mortgage Advisor in Hull, who'll undergo your free mortgage consultation. At this stage, your advisor will learn a little more about your personal and financial mortgage situation so that they can begin searching through mortgage deals for you.

To learn more about our service, get in touch with us today. Hullmoneyman is your new home for Specialist Mortgage Advice in Hull; we have been helping struggling applicants over the last two decades. You could be next!
Mortgage Advice in Hull
Divorce & Separation FAQ's
Going through a divorce or separation with your partner when you have a joint mortgage together can be difficult. In this guide, we have compiled a list of frequently asked questions that have been answered on this subject.
Do I Need to Keep Paying my Half of The Mortgage?
Regardless of if you are going through a divorce, you need to keep paying the mortgage, even if you are living elsewhere in the meantime.

You and your ex-partner both agreed to take out a joint mortgage and are both held equally liable for the debt until the mortgage gets paid off, regardless of whether it's just one person living there at the moment.

Failing not to pay the mortgage on time can harm your credit history as well as your ex-partners, and your home may be repossessed if you do not keep up with repayments on your mortgage or any other debt secured on it.
When Should I Inform my Lender?
As soon as you know you will be separating, you need to inform your mortgage lender sooner rather than later, especially if you find it challenging to meet your mortgage payments.
What are my options?
1. Sell the Property.
If you both decide it is best to move out of the property, sell up, and pay off the mortgage. 

Any equity left after the mortgage has been paid off will be split between the two of you. Strictly who gets what from the leftover funds can be open to dispute.  

If you move out and are looking to purchase a new property, our trusted team of mortgage advisors in Hull are available 7 days a week. They are ready to recommend you with the best deal, offering open and honest mortgage advice in Hull. 
2. Continue to Make Those Payments
If the divorce is on good terms, some decide to stay and continue paying the existing mortgage, and this method can be beneficial, especially if your mortgage is fixed for a couple of years.
3. Stay in the Property
If you both conclude that you or your ex-partner will live in the property, the current resident will have to remortgage in their sole name.

If you decide to become the sole owner of the property, and there is an existing mortgage in joint names, you will need to remortgage. The new mortgage will be taken out in your sole name, therefore your affordability will be reassessed.
Can I get a Second Mortgage?
Yes, you can have more than one mortgage. Lenders each have different credit scoring systems and take various factors when applying for a second mortgage. The main one is your current financial commitments. Before applying, you need to make sure you can afford a second mortgage because if you get declined, it could negatively impact your credit file.

You will be happy to know that here at Hullmoneyman. We can perform a search for you that won't damage your credit file. Once we have the necessary information gathered, we can then confirm the maximum amount you will borrow.

This can help you get a good idea of your budget and how much your monthly mortgage payments will be on top of your current financial commitments.

It can be challenging to move on from your current financial commitments, and this is why having an expert Mortgage Advisor in Hull by your side could prove highly beneficial.

Moving home can be a stressful experience, and if you add that to a complex situation like a divorce or a separation, it can sometimes all get a bit too much. Speak to a Mortgage Advisor in Hull today, and we will see how we can help you.
What if I am in Negative Equity?
If you get divorced while your joint home is in negative equity, it can be challenging to sell the house and pay off the mortgage in full.

You might have to split the outstanding debt between you or agree with your mortgage provider.
The Costs of Buying a Home in Hull
Moving Home Hull
There are lots of different things to think about before you move home, one of them is the costs involved. Whether you've moved home before or this is your first time in the market, you need to be fully aware of all of the costs of buying a home.
The Costs Involved in Buying a Home
Estate agency fees
You will only have to converse with an estate agent when you are looking to sell a property. If you're going down the purchase route, your Mortgage Broker / Bank / Building Society can sort these things out.

Estate agency prices can vary. If you end up dealing with one, you should make sure that you're getting the best price and service available. Make yourself certain before committing to anything. Sometimes, the cheapest estate agents may have the poorest service.

If you aren't too fussed about the costs and just want a personalised, simple and secure service, it's likely that you'll have to pay an extra 1-2% of your selling price. Usually, these fees are negotiable; particularly in a seller's market where agents are fighting for your instruction because of the lack of houses on the market.

Property survey fees
During your mortgage application, the lender will need to know whether the property you're buying is worth what you are paying for it. They calculate this by carrying out a property survey. In some cases, your lender may offer this service for free, however, they may not send you a copy of the report.

If you do not get offered a free valuation, you may need to pay, on average, a few thousand pounds for one. If you want to take it another step further, you can upgrade to an in-depth Homebuyer's Report. This survey is at the top of the range and you should expect to pay a four-figure sum for them.

A great thing about going to a Mortgage Broker in Hull like us is that we will break down each survey and help you make a decision on which one is the best for you. If the property that you're buying is old or not in the greatest condition, you should maybe consider switching to a more detailed property survey, just to make sure that you know exactly what you're paying for. You will also know what needs replacing/repairing as soon as you move in.

As a Mortgage Broker in Hull, we've often found that the cost to upgrade a property survey is a fraction of what it would cost you for repairs over the years. So rather than buying a property blind, you could upgrade and end up saving yourself a fortune in the future.

Mortgage arrangement fees
Usually, mortgages that come with lower interest rates often come with high set-up fees. Some lenders will charge you a mortgage arrangement fee for… well, arranging your mortgage.

This fee can range anywhere from zero to a few thousand pounds. If you choose to go with a Mortgage Advisor in Hull, they will work with you and recommend you with the best and cheapest product that will meet your mortgage needs. They will consider all of the other costs that come with getting a mortgage and try their best to save you money.

When you are taking out a mortgage, you'll always want to try and get the lowest interest rate possible. If you know how interest rates work, your payments will only increase at an exponential rate.

Lenders can also add an arrangement fee to your mortgage. If this happens, you should know that this is now a part of your mortgage so it will also start receiving interest and add up over your mortgage term.

Solicitor fees
A solicitor will be needed to help your mortgage application progress through the legal parts of the process. They will check things such as, does the seller actually own the property that you're buying, who is responsible for maintaining adjoining fences, walls etc and whether anyone has lodged any plans (for example to build future transport links). These sorts of things need to be confirmed as if there is anything wrong with the property, it could affect your ability to sell it in the future.

The pricing for each solicitor varies, some may be around a thousand pound, some may be more, some less. You will also need to remember to check whether the quote includes VAT and local searches.

As a Mortgage Broker in Hull, we always advise that you be careful when selecting a solicitor as not all of them will work with every single lender. You want to choose the best lender that will save you time and money, let us help you find them!

Stamp duty
Stamp duty is a tax that comes with purchasing a home within a certain price range. The way that it usually works is that the more that you pay for your house, the greater the stamp duty tax you'll receive.

The stamp duty guidelines and property price thresholds change from time to time, so if you are wanting to find out whether you'll have to pay it or not, you should check the stamp duty government page.

If you fall into a stamp duty tax bracket, it's likely that you'll pay it upon completion to your solicitor. They will then make the payment to the government on your behalf.

Mortgage broker fees
A Mortgage Broker in Hull will charge you for their services. Most of them will not charge you an upfront cost and will offer a free mortgage consultation like us!

When they charge you for their work, the cost of the fee will typically be a percentage of what the lender pays the broker for the work they do on their behalf. Most Mortgage Brokers will only charge you if your mortgage application is successful and you receive a formal offer.

Removal fees
Moving Home can be stressful enough, so don't make it even worse! Have you thought about how you are going to transfer your furniture and your household items between properties?

In our experience, we can tell you that hiring a removal van may cost a little extra but will make your Moving Home process ten times easier. They are experts at the end of the day and they will help you move everything from A to B.

Moving Home Advice in Hull
For Moving Home Advice in Hull or First Time Buyer Mortgage Advice in Hull, make sure to get in touch with our team. We offer a free mortgage consultation in Hull, so feel free to take advantage of it.
What do Lenders Look for When Assessing my Bank Statements?
Why does the lender need my bank statements and how do I obtain them?
The reason a lender will need to see your bank statements is to learn more about you as a person and what your spending habits are like. How you have acted lately and the presentation of this on your bank statements can be the difference in how much a lender will let you borrow, if anything at all.

This is down to risk. A lender needs to know you're responsible with your money and can be trusted to handle finances appropriately. After all, a mortgage is likely the biggest financial commitment you will ever make in your life and is not something to be taken lightly.

Your bank statements are easily obtained either in the post from your bank, over the counter from your local bank, or as often seen these days, as a printable version from your bank's online platform.
What will lenders be looking for on my bank statement?
So down to the main question now. What will they actually be looking for? What might flag up in their eyes?

Well as mentioned above, they need to know you're being responsible with your finances. One of the things they'll be looking at is if there are any overdrafts. Using this every so often is not necessarily a bad thing, but if you are exceeding your limit on a regular basis, this is going to put your level of trust into question.

More factors to be careful with are potential returned Direct Debits, which could show a lender you are not consistently reliable, and not disclosing loans at application stage, as it won't look good if the lender finds outgoings on your bank statements that you failed to mention. Once again, this is a process of trust.

Other things to be aware of are missed payments for personal loans and things such as credit cards. If you can prove you handle your money well and are able to meet monthly payment deadlines, a lender will be more likely to lend you an amount closer to that which you would like to borrow.
Will gambling affect my chances of getting a mortgage?
This is a question we find ourselves being asked on a regular basis. All too often do customers find themselves stuck when they have a history of gambling behind them. The occasional bit of fun is harmless, but if you are frequently betting large amounts of money, whether you're making it back or not, a lender will not look at your situation favourably at all.

To learn more, please see our article on "Do Gambling Transactions Look Bad on My Bank Statements?" 
What can I do to show the lender I am reliable?
From our experience in working with many First-Time Buyers in Hull & Home Movers in Hull, we have found that most mortgage lenders will want at least three months bank statements from an applicant.

With that in mind, it's time for you to forget the past and think about the future. You have at least three months to work on your finances. The first thing we'd suggest is if you are a frequenter of the local bookmakers or online gambling scene, you take a break for some time. This not only benefits your financial state but can also benefit your mental health too.

The next steps we would recommend taking are to trying to save money. For example, cooking in as opposed to eating out, treating yourself to unnecessary purchases and cancelling unneeded subscriptions are great ways of freeing up additional cash to ensure bills can be paid on time.

What this boils down to is simply being sensible and planning with plenty of time ahead of what you're looking to do. The further away you find yourself from bouts of debt and financial uncertainty, the better your chances will be with a lender. 
Speak to a Dedicated Mortgage Advisor in Hull
Whether you're a First-Time Buyer, Moving Home or Self-Employed, it's always important to keep on top of your finances. If you have a bad credit history and are unsure of what to do, you can always enquire for Specialist Mortgage Advice in Hull by Getting in Touch with us today. We'll advise as best as we can, to further you through your mortgage journey.
Do Gambling Transactions Look Bad on My Bank Statements?
When lenders ask for your bank statements you can expect them to look for a variety of things. However, their main objective is to assess whether you are the sort of person who manages money responsibly and is likely to keep up to date with their mortgage payments. In recent months, one question is being asked by applicants quite a lot: "do gambling transactions look bad on my bank statements".
Mortgage Questions to Consider
What has it got to do with the lender whether I gamble or not?
Whether you have an annual flutter on the grand national or regularly use internet betting sites, clearly there is nothing illegal about properly licensed gambling. Many of the bookmakers advertise on mainstream TV and radio. A lot of people see gambling simply as a mainstream hobby or pastime similar to many others. However, it shouldn't be forgotten that even the gambling advertisers urge customers to "please gamble responsibly" and this is the key to bear in mind when applying for a mortgage. Thus, whilst it is not a lender's job to tell you how to live your life, how to spend your money or indeed to moralise on the ethical rights and wrongs of gambling, they do have a duty (underscored by mortgage regulation) to lend responsibly.

If lenders need to prove to the regulators that they are making prudent lending decisions, it isn't entirely unreasonable of them therefore to expect the people to whom they lend to adopt a similar approach when it comes to their personal finances. Think about it. If you were lending your own money would you lend it to the applicant who gambles or the one who doesn't?
Is it still possible to get a mortgage if I've got gambling transactions on my recent bank statements?
As mentioned above, it is not illegal to gamble so just because you have the odd gambling transaction on your bank statements it doesn't automatically mean you will be declined for a mortgage. However, the lender will consider whether these transactions are reasonable and responsible. Thus they will particularly look at the frequency of these transactions, the size of the transactions in relation to the person's income and the impact upon the account balance.

If these transactions are infrequent small amounts that make no significant impact on a regular credit bank balance, then they are not likely to be regarded as important. However, if you bet most weeks or you are constantly overdrawn, the lender is therefore likely to see that as being irresponsible and decline your application.
Is there anything else lenders wouldn't want to see on my bank statements?
As we've seen, basically lenders are looking at your bank statements to show how you manage your money and to help them establish whether this gives them either the confidence that you are financially prudent or the evidence that you are not.

Remember, lenders are financial institutions that, either directly or as part of a wider group, often sell current accounts, overdraft facilities credit cards and personal loans, so understand that these things can all play a part in prudent financial planning. The key for a mortgage applicant is how these facilities are managed. For example, having an overdraft facility and occasionally using it, is not inherently a bad thing; regularly exceeding the overdraft limit – not so good. Thus, lenders will look for excess overdraft fees or returned direct debits because these would normally show that the account is not being well conducted.

Other things to look out for include credit transactions from pay-day loan companies; "undisclosed" loan repayments (i.e. if you said on the application that you have no other loans but there appear to be regular loan payments, this could be a problem); they would look out for any obvious missed payments; finally, they might also consider how much of a typical month is spent overdrawn – i.e. if you only just go into credit on payday and for the rest of the month are overdrawn, how sustainable is this mortgage?
What can I do to improve things?
The simple answer is – be sensible and, if possible, plan ahead. Typically, a bank would ask for up to three months of your most recent bank statements. These will show your salary credits and all your regular bill payments. Thus, if you know you're likely to want to apply for a mortgage in the not-too-distant future, try to make sure that you avoid any of the above pitfalls. Take a break from gambling for a short while and work on presenting your bank account in the best possible light.

Your mortgage broker can help you as there are some lenders who may ask for fewer bank statements than others or indeed some may not even ask for them at all. However even these lenders would reserve the right to request bank statements in certain circumstances, so your best bet (no pun intended) is to be as prudent as possible in the run-up to any mortgage application. Remember, if you do gamble, please gamble responsibly!
Get in Touch With a Mortgage Broker in Hull
If you are a First Time Buyer in Hull who doesn't know a lot about mortgages, you should definitely get some specialist advice from a Mortgage Advisor in Hull. They will guide you through the whole mortgage process and help you with your application and get you on track so that lenders will be impressed.
Self-Employed Mortgages in Hull
Mortgage Advice in Hull For Self-Employed Applicants
Self-Employment is always on the rise, which in turn brings a rise in Self-Employed Mortgage Applicants in Hull. This is down to changes in work life in Hull and the world around us. There are now more opportunities than ever before to work from work, to start a business and more. As a dedicated and knowledgeable Mortgage Broker in Hull, we rarely see people planning to stay with their first employer from their first year, all the way through to retirement. They want to change their jobs to improve their personal development and financial situation.

There are lots of opportunities for the self-employed and freelancers within the Digital and Engineering sector. This is down to the world becoming more and more interconnected. We are constantly learning which opens more and more opportunities for the self-employed within these industries.

It used to be difficult for Self-Employed applicants to obtain a mortgage. However, with Self-Employment now becoming a lot more common and a lot more gaps opening up in the market, lenders have become more relaxed and lenient with self-employed applicants. The process of applying for and obtaining a mortgage as a Self-Employed applicant is now a lot easier than it ever was in the past.
Self-Employed Mortgage Hints and Tips in Hull
To get you ahead of the curve when it comes to your mortgage, we have put together a small collection of some helpful mortgage guides, to support anyone from Self-Employed mortgage applicants to those thinking of Moving Home in Hull. Whether you have been in this game before or you are First-Time Buyer in Hull, we are sure that you will find the assistance of a trusted mortgage broker in Hull beneficial.
How many years' books do I need?
The minimum you will need in order to obtain a mortgage is one year's accounts. If you go with a self-employed specialist lender, you will find that they often work off a single year. High street lenders tend to be a little stricter and will want two year's accounts from you.

Unfortunately, statistics show that most new attempts at running a business end up being unsuccessful and this is why lenders always need you to evidence your track record, to prove you are reliable and have 'staying power'.
How will a lender assess my income?
Most lenders will look at the average of your last two years' worth of income. Although, if your business has grown over the past year and the lenders can see that you will be able to afford a mortgage and run your company, they will go off the latest year and ignore anything that has happened previously.
I'm a director of my own limited company
If you are a director of your own limited company, then technically you are an employee of your own business. Lenders will not view it this way, however, and will only assess you as an employee if you own less than 25% of company shares.

Lenders often add the dividend you have drawn to your annual salary as a way to work out your earnings for the year. The amount that you can borrow for your mortgage will be based on a multiple of this particular figure.

You will find that from time to time, some lenders will work from your net profit rather than your salary/dividend. This works in the favour of company directors who like keeping their drawings low.
My accounts don't reflect the true success of my business – what can I do?
As a trusted and hardworking Mortgage Broker in Hull, this is a question that we find ourselves being asked all the time. During the meeting you have with your accountant each year, you will talk about how to minimise your tax liability. This works the other way when it comes to taking out a mortgage as a Self-Employed Mortgage applicant, wherein the more income you have declared, the bigger the mortgage you may find yourself able to obtain.
How much deposit do I need to put down?
Whether it's a Self-Employed Mortgage or not, a minimum of a 5% deposit is still required. It's exactly the same as employees. If you only have one years' accounts, you might find it more beneficial to put down a bit more deposit than what you initially would've, in order to increase your chances of succeeding. See our article to find out more on How Much You Need For a Deposit in Hull.
Contractor mortgages
When it comes to looking at mortgage options for contractors, there are lots available. Nowadays, it's a more common occurrence to find people working from short-term contracts. If you are able to evidence that your company has a good track record, your lender can consider taking your 'daily rate' rather than going by your net profit. This will benefit contractors greatly, as lenders will consider treating you as if it's more likely to work in your favour doing so, they'll treat your case as self-employed instead.

Lenders will need you to provide information on how long is left on your current contract, as this can influence their decision. They need to be absolutely certain that your income will continue as it is, in order to get a true indication as to whether or not you will be able to afford your mortgage. Even when you're on your very first contract, it may still be possible to obtain a mortgage, though this all depends on your specific circumstances.
Can I still get a self-cert mortgage?
It is no longer possible to get a self-cert mortgage. These were heavily abused and caused major problems for both the mortgage market and the economy as a whole. There are zero plans for these to make a return in the future.
Self-Employed Mortgage Advice in Hull
We know that trying to get a mortgage as a sole trader, partner or company director can be a tricky process, mostly down to trying to evidence your income. Whilst it can be much easier for an employed applicant, know that you have the same chance of getting a mortgage as anyone else with a similar income and credit score. Depending on the lender that you take out a mortgage with, some may have stricter criteria than the standard lender. This is why approaching a dependable Mortgage Broker in Hull, could be truly beneficial to you and your goals.

We are able to give you a realistic expectation from the start, guiding you through the self-employed mortgage process and providing support even beyond. Our reliable and determined mortgage advisors in Hull are able to search through thousands of mortgage deals on your behalf. Every customer has access to a free initial Mortgage Consultation, so make sure that you Get in Touch with one of our Mortgage Advisors in Hull today. We will talk you through the most appropriate route for you to take based on your self-employment history.
What is a 95% Mortgage?
A 95% mortgage is what it says on the tin; you are borrowing against 95% of a property's price, covering the remaining 5% with your deposit. An example of this is if you looked at buying a property worth £150,000 with a 95% mortgage, you would put down £7,500 as your deposit and borrow the remaining £142,500.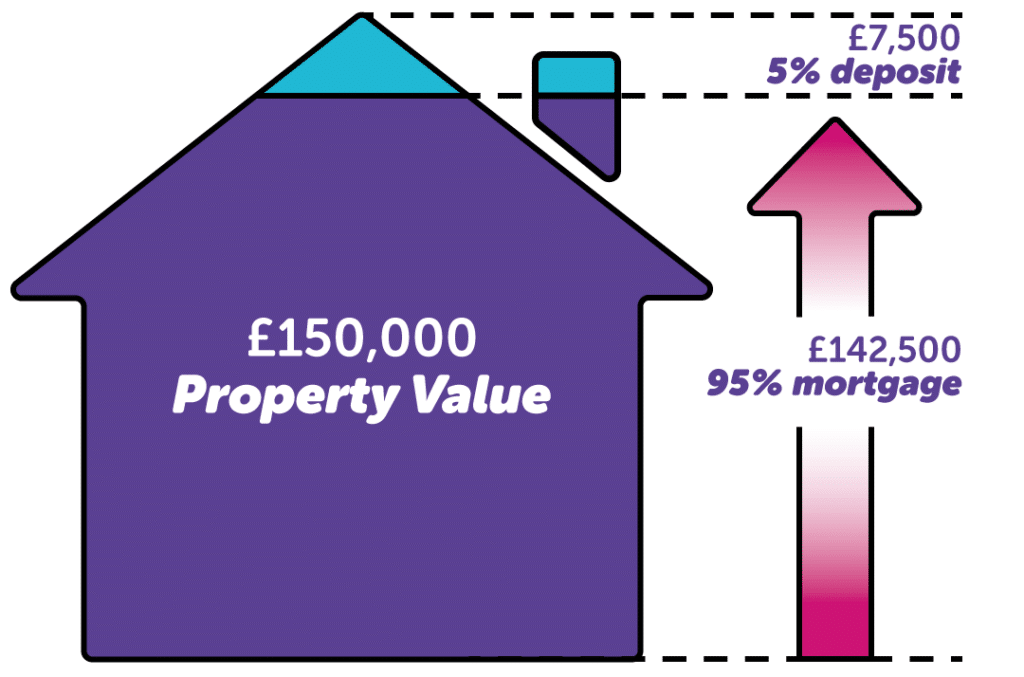 95% Mortgage Advice in Hull
With the March 2021 Budget, Boris Johnson announced a Mortgage Guarantee Scheme for Lenders, making 95% mortgages more readily available from the big banks.

This is great news for both first-time buyers and home movers as this will run until December 2022. Certain terms and conditions will apply, your Mortgage Advisor in Hull will be able to see if you qualify.

All our customers receive a free, no-obligation mortgage consultation where we will be able to recommend the best mortgage deal based on your individual situation.
Can I get a 95% mortgage?
95% mortgages are generally available to both First-Time Buyers in Hull & people who are looking at Moving Home in Hull. Whilst the idea of saving for a 5% deposit sounds easy enough, you'll still need to have a sufficient credit score and prove that you can afford your monthly mortgage repayments, in order to be granted a 95% mortgage.
Improving your credit score
A good credit score is the key to obtaining any mortgage, especially a 95% mortgage. Things like paying any existing credit commitments on time, ensuring your addresses are up-to-date and that you're on the voter's roll, can all help build this up. For a more in-depth look at what you can do and why, please see our How to Improve Your Credit Score article.
Affordability
Affordability is another one that is key. By providing details of your income and monthly outgoings (things like your bank statements will be necessary for this) and any pre-existing credit commitments, your lender will get a good idea of whether or not you are able to afford this type of mortgage.

Can my family help me get a 95% mortgage?
It's very popular these days for family members to help each other get onto the property ladder, especially parents looking to further their children. This can be achieved by gifting the person looking to find their home, the deposit required for the property. Known by some as the "Bank of Mum & Dad, Gifted Deposits work purely as a gift, and not as a loan. The lender will need proof that this is the case, before it can be used towards your mortgage.
How do I choose the right 95% mortgage?
When looking for a 95% mortgage, you want to make sure you're on the right one. Each different mortgage type works in its own unique way, allowing you to find one that is best suited for your personal and financial situation.

You could find that you prefer Fixed Rate or Tracker Mortgages, wherein you either keep interest rates at a set amount for the term or have your interest rates follow the Bank of England base rates.

Alternatively, you might find that you're better suited for an Interest-Only or a Repayment Mortgage. The former of which allows cheaper payments until you need to pay a lump sum at the end (more suitable for Buy-to-Lets) and the latter of which means you'll be paying interest and capital combined per month.

You can read more about these in our Different Types of Mortgages article, with accompanying videos.
How can a bigger deposit help with my mortgage?
As with anything involving such a large financial outgoing, you need to be prepared and need to be wary. Things that might crop up, include higher interest rates, remortgaging difficulties due to less equity and then negative equity.

The good news here is that all these can be avoided if you're savvy enough with your initial process. The more deposit you put down, the less risk you are to the lender.

A larger deposit, of say 10-15%, would not only lower your interest rate significantly but would also put more equity in the property and reduce the risk of negative equity as you would be borrowing less against the property in question.

So, whilst the risks seem daunting at first, planning ahead and saving for a bigger deposit to access something like a 90% or even an 85% mortgage will be a definite lifeline and something you'll be able to reap the rewards from.