What is a Mortgage Illustration?
Mortgage Illustration Hull
A mortgage illustration is one of the first items that you will receive during the mortgage process. What is a mortgage illustration though? Although it sounds complicated, it's really not!

Simply, a mortgage illustration is a document that outlines every detail of your mortgage deal. So, when your mortgage advisor in Hull recommends a product, they will also show you a mortgage illustration showing everything there is to know about that product.

As a mortgage broker in Hull, our process to get your mortgage illustration works like this:

Once you book your free mortgage appointment online, you will be paired with a mortgage advisor in Hull. This advisor will specialise in your situation.
They will search 1000s of mortgages on your behalf to try and find the best one for your circumstances. Once they find the perfect deal for you, they will recommend the product to you.
During this recommendation, you will also receive a mortgage illustration outlining the deal.
If you are happy with the deal and want to continue with us, we can start to prepare your mortgage application.

This process will be described by your mortgage advisor in Hull once you get in touch. Our mortgage advisors have been helping first time buyers in Hull, for over 20 years now, and they will be able to simplify it for you as much as possible.

For a quick answer to "what is a mortgage illustration", watch the MoneymanTV video below. For more mortgage tips and explanations, check out our channel. Make sure to subscribe whilst you're there!

What is included in a mortgage illustration?
Your mortgage illustration will include the main product details, costs of taking out the product, monthly repayments, legal fees and sometimes valuation fees.
Main details
The main details that will be included in your mortgage illustration are the length of your fixed contract, who you are taking out the product with and the interest rate.
Costs of taking out a product
Almost every mortgage includes a cost for taking it out. You may be charged for the mortgage you're looking to take out, and if you do, this cost will be outlined in your mortgage illustration.
Monthly repayments
Monthly repayments are how much you will be paying each month for your mortgage. These costs will be calculated by your total mortgage amount, interest rate and fixed term length.
Legal fees
Legal fees include the services of a solicitor. As a mortgage broker in Hull, we will talk you through these costs before passing you over to them.
Valuation fees
Most properties will require a property survey before you can take a mortgage out on them. If you require a property survey, these valuations could be included in your mortgage illustration. This can change from property to property.

Do I have to agree to your mortgage recommendation?
No, you do not have to take out your recommended product. It is a recommendation for a reason. Your mortgage advisor in Hull will have carefully selected this product for you and would have tried to find a deal for your personal and financial situation.

You are under no obligation to continue with this deal, however, if you choose to part ways with us, you will have to lose this deal too.

Does a mortgage illustration guarantee me a mortgage?
Though we would love to say yes, unfortunately, we can never guarantee any applicant a mortgage. Don't forget that a mortgage illustration follows your free mortgage appointment, therefore, you have not provided any documents to support income, source of deposit and affordability as of yet.

Is a mortgage illustration the same as an agreement in principle?
Before receiving your mortgage illustration, you will receive an agreement in principle (AIP). This shows that a lender is willing to let you borrow from them in principle of you being able to evidence your income, source of deposit, affordability etc. This is not the same as a mortgage illustration.

Remember that a mortgage illustration is an outline of the mortgage product and not a document from the lender saying that you can borrow from them. It's also worth knowing that these do not guarantee a mortgage either.

Speak to a Mortgage Broker in Hull
First time buyer in Hull or home mover, we are here to help! We have been in the sector for over 20 years now, and know how to try and find you the best deal possible.

You will receive a free mortgage illustration after your mortgage advisor in Hull has found you the perfect deal. You can book online and choose the best date and time for your mortgage appointment.

Don't Pretend to Live Somewhere you Don't in Hull
First Time Buyer & Moving Home Mortgage Advice in Hull
When you're buying a house, you need to prepare your mortgage application alongside your property searching. This process can be stressful and a little daunting, especially if you are a First Time Buyer in Hull and you haven't been through this part of the process before.

When preparing your application, you will be asked to provide proof of your address. This will allow your lender or Mortgage Broker in Hull to check that you live where you say that you live.
Importance of your address
When checking over your mortgage application, your lender will be looking to make sure that all of your addresses line up. They will check your identification, bank statements, bank cards and even your billing and shipping addresses of various store cards.

You need to make sure that all of your addresses are in line with one another. Your lender will be able to see when addresses don't match and will pick up on it.

This may be easy to monitor if you are a First Time Buyer as all of your details should be registered to your parent/carer's or rented address, whereas, if you are Moving Home, you may have to double-check all of your linked addresses. Then, once you move into your new house, you will need to change all of these linked addresses to your new one.

What happens if I don't change my address when I move home?
If you move home and forget to change your address, your bank statements, letters and bills may be sent to an old address. This can negatively affect your credit score.

For example, if you get a parking ticket and the letter is sent to your old home, you will not know about the payment. This payment will keep going up and up if not paid and you may receive a default on your file for not meeting the payments. This is why it is important to change your address when you move home in Hull.

How will it affect my chances of getting a mortgage?
Your lender may decline your mortgage application if there are multiple addresses linked to your name. They want to see everything in line and have no mistakes, such as spelling issues.

If your application is declined, that can also have an adverse effect on your credit file. During your next application, when your lender performs a credit search on you and your file, they will be able to see that you have been previously declined.

This will not work in your favour, and it will only get worse if you keep applying and get declined.

I've been declined, what should I do?
This is the point where you should speak with a specialist. A Mortgage Broker in Hull like us will help you prepare your mortgage application and make sure that you have your information correctly filled out before you submit it.

Applying over and over will only lower your credit score, which can severely impact your ability to get a mortgage or obtain credit in the near future.

If you are looking for Mortgage Advice in Hull, then feel free to get in touch with our brilliant team. We are available 7 days a week so that you can get in touch at a time that suits you. Put your work and personal life first, then give us a call and we can book you a free mortgage appointment with an advisor. We hope to hear from you soon.
How a Debt Management Plan Can Benefit You and Your Mortgage in Hull
Debt Management & Mortgage Advice in Hull
A Debt Management Plan or a DMP is a formal agreement between you and your creditors to help you pay off your debt. The plan usually starts with you declaring how much debt you're in then your creditors can get a picture of how severe the situation is.

They will then want to know all about your income and your expenditures. This will help them work out your spending habits and see whether there are things to cut back on.

Once they have these details, you will be put on a DMP tailored to you and your finances. To repay your debt, you will receive monthly payments at a reduced and more affordable rate.

In this article, we are going to look at how a DMP can benefit you and your mortgage in Hull.

Improving your credit
Believe it or not, being on a DMP can improve your credit. If you have poor credit at the time of taking out a DMP, meeting your monthly payments and slowly paying off your debt can have a positive effect. If you think about it, you're clearing debt from your name, therefore, with time, it's only fair that you start to gain points on your credit score.

Having a higher credit score can potentially open you up to better mortgage rates. You will still need to provide a much higher deposit as usual as you're still in debt.

Avoiding defaults
By working on a DMP and keeping with it, you may be able to avoid a default, unless you're already associated with one. Once you are issued with one, it will not be removed from your file for 6 years, regardless of whether you've paid off the debt.
Having a default that is in your name can have an adverse effect on your credit score. As a Mortgage Broker in Hull, we would highly recommend avoiding a default if it is possible.

If you speak to an expert, such as a Specialist Mortgage Advisor in Hull, you may be able to get a quick DMP together and avoid a default. Every lender will ask lots of questions when seeing a default in your name. Ideally, you don't want to be in this situation.

If you've already been issued with a default, you may be able to incorporate the amount owed into your DMP. The default will still appear on your credit file, which can negatively affect your chances of being accepted by most lenders.

Reorganise your finances
Having a DMP in place can help your sort out your finances and get you back where you need to be financially. Re-evaluating your finances, particularly in the lead up to a mortgage/remortgage application, is always a recommended option. This includes your DMP payments and your current outgoings.

To provide an example for this situation, you could cut back on gambling during the lead-up to your mortgage application to ensure that you're looking reliable and managing your finances responsibly. Your lender will see it as irresponsible if you're on a DMP and are going out and spending large chunks of your income on gambling.

Debt Consolidation Mortgage Advice in Hull
In some circumstances, you may not want to take on a DMP and would prefer to incorporate some of your owed debt into your mortgage. Your total mortgage amount will increase, but you'll be ensuring that your unsecured debt becomes secured against an asset.

Debt consolidation is a specialist subject and you may need assistance from a Mortgage Advisor in Hull during the process. We would never recommend that you consolidate your debt into your mortgage without conversing with a professional.

You can book a free mortgage appointment with an expert online. Follow our Get Started process to choose a date and time best suited to you.

Can I Have Two Mortgages in Hull?
Second Mortgage Advice in Hull
Dealing with one mortgage can be difficult enough, never mind two!

There are many different reasons why someone may want more than one mortgage, some are more common than others. As a Mortgage Broker in Hull, we see that the most popular scenario is when a landlord wants to take out another mortgage for a Buy to Let.

Whether you're in this situation or something similar, our mortgage advisors in Hull are able to help you through your second mortgage journey.

Lenders will look at your current mortgage affordability, income and expenditures before accepting your second mortgage offer. They will need to know that you can afford another mortgage.

They may also require you to put down a higher deposit on this mortgage. This will not be around the 5% mark; it could be anywhere between 15-40%.

Why would you take out a second mortgage?
Are you looking to purchase a new property to rent out as a Buy to Let?
Do you want to buy a property to rent out your current home as a Let to Buy?
Are you buying a second home for your children to help them get onto the property ladder?
You want to take out a second mortgage to raise additional funds for your current property?
Is your name associated to an existing mortgage and you want to buy a property in your own name?
These are the most common mortgage situations that our team come across. During our years of working within the mortgage industry, we've come across all of these situations and managed to help many customers through them. Our team of Mortgage Advisors in Hull have in-depth knowledge and experience with Buy to Let mortgage criteria.

Second mortgage for a Buy to Let
A Buy to Let is a property that you rent out and do not live in. They're usually bought by current or aspiring landlords.

Buy to Lets will likely require you to put down a higher deposit amount. For any Buy to Let, you're going to have to put down an amount between 25-40% loan to value rate.

Buy to Let mortgage repayments work the exact same way as your current mortgage. You will be issued with monthly bills and interest rates will apply.

If you're taking out a second mortgage for a Buy to Let property, it may benefit you to speak with a professional Buy to Let expert. Our advisors have been working with local landlords in Hull for many years now, building up strong relationships with them and helping them with their remortgages on their property's.

Second mortgage for a Let to Buy
Let to Buy works in the same way as a Buy to Let, however, you are moving home into the property that you're purchasing and renting out your current one. Deposits and payments will remain the same as a Buy to Let as you're still taking out two mortgages.

Our Buy to Let Mortgage Advisors in Hull are also experienced in working with Let to Buys. Book your free mortgage with one of them and find out whether you can qualify for one.

Second mortgage to purchase a home for your children
This scenario is becoming more and more popular, particularly in recent years. Parents are becoming aware of the struggle to get onto the property and the costs of a mortgage.

With the constant rise of inflation and property prices, First Time Buyers in Hull are needing a helping hand to move home. Sometimes people require just a little bit more than a gifted deposit.

Applicants receiving help from grandparents and parents is not unusual. It's likely that they've already paid off their mortgage and can afford to offer their help. The family member offering the help will have to pass lenders affordability checks to make sure that they can afford to pay for their child's or grandchild's mortgage.

Second mortgage to raise funds
When it comes to taking equity out of your home to raise funds, people normally use the money for home improvements, debt consolidation, to buy something such as a car or to fund a wedding etc. Another option that people sometimes choose is to release equity and take out another mortgage.

This situation could also be known as a further advance. A further advance is when you borrow more from your current lender to fund something like home improvements or a second mortgage.

The amount you can borrow would be entirely dependent on the amount of equity in your property and you would still need to prove that you can afford the additional mortgage amount on top of your existing one.

The amount that you can borrow from them will depend on the amount of equity in your property. Also, you will still need to prove that you can afford a second mortgage.

Named on an existing mortgage and want to buy a new home?
Often, it can be difficult to get your name removed from a mortgage, therefore, sometimes people leave their name on. Even though you're still named on a mortgage, it can be possible to take out another one in your own name.

When this situation comes about, it's usually because of a recent divorce or separation. Unfortunately, the financial complications must be addressed sooner rather than later in a scenario like this.

When you want to take out a second mortgage in your sole name, it may be a little harder to get accepted. Your lender knows that there's just one applicant and you're still linked with another mortgage. Even if you've made agreements with your ex-partner that you're not going to contribute to their mortgage payments, they will still see it as a potential liability.

This situation can get very complicated and stressful, therefore, we recommend that you speak with a Specialist Mortgage Advisor in Hull. Our advisors are very experienced in dealing with divorce and separation Mortgage Advice in Hull. For help and advice, book your free mortgage appointment online and speak with an expert.
What is a Property Chain & How Can You Avoid Them?
Moving home mortgage advice in Hull
During your process of moving home in Hull, it's likely that you'll come across lots of different hurdles and obstacles; if you don't consider yourself lucky! It could be something completely random that gets in your way, something you never thought would affect your moving home journey.

A recurring problem that trips up a lot of mortgage applicants in Hull is the property chain. Getting caught up in the property chain can slow down and in worse cases, put your moving home process to a stop!

Here is all about property chains, how you may end up getting wound up in one and how to avoid them.

What is a property chain?
A property chain is a string of transactions that are each dependent on all purchases and sales completing. If one of the transactions breaks down, this can have a knock-on effect on the rest of the transactions in the chain. For example, let's say you are selling your home and purchasing a new one.

Then let us say that the person who was looking to purchase your home suddenly pulls out. You were dependent on this sale to fund your new purchase, which you are now no longer able to make, which means you could possibly be holding up any transactions in front of you too.

Imagine it as an actual chain linking houses together. If one property purchase falls through, the chain potentially breaks and your property purchase may not go through.

Depending on the property chain that you're linked with, the chain size could be endless. If you're lucky, you may not have that many purchases in your property chain.

How long will the process take in a property chain?
This answer can change from chain to chain. It all depends on what situation your's, your seller's and your seller's seller situation is! It's very complicated… we know.

Property chains can run smoothly or badly, there's no real in-between. You may be in a property chain without even knowing. If the process is fast, you can assume that everyone ahead of you in your chain had their purchase go through fine.

If things don't work in your favour, you may get stuck in a waiting scenario. As a mortgage broker in Hull, we would strongly recommend starting the moving/buying a home at least six months before you're wanting to move in.

This amount of time allows room to find your dream home and time just in case you get caught up in a property chain.

What happens if my property chain breaks?
When a property chain breaks, it's quite unfortunate as there's not a lot that you can do about it, especially when it's further down the chain. You may be forced to wait or look for a new property.

If the property chain breaks at your purchase, acting quickly could save the chain from breaking. It can also help everyone else behind you. For example, if you're selling your property, you can contact the applicants who want to buy your property by contacting your estate agent; this way, you can inform them of the situation as early as possible. As long as you act quick, you may be able to resolve the issue that broke the chain.

There are ways to prepare for a break in the property chain if the break is not on your level; this includes, you could try and buy a property that isn't in a chain or in a small chain, sell your property and rent temporarily or buy a new-build property, etc.

For more moving home mortgage advice in Hull, contact our experienced mortgage team in Hull today.

How can a property chain break?
You'll discover that there are many different reasons why a property chain could break. It could be at any level during the chain:

The buyer's mortgage application was declined
A seller decides that they don't want to sell their property
A buyer/seller loses their job or becomes ill
The property survey that was carried out on the property lightened some major damages and structural issues.

This is just a small list of examples, there are many more. Sometimes it's just down to the length of the property chain to how drastically these situations will impact your ability to move home.

How can I avoid a property chain?
It's hard to 'avoid' a property chain, even more so if you're buying during a busy time of the year.

We would always advise that you do your research and talk to your estate agent and arrange your finances sooner rather than later. This puts you in the best position if a break in the chain were to happen. The more you are prepared, the better.

If you avoid property chain ('chain-free'), you should be able to move straight on through the moving home process.
However, you must remember that you'll need to provide evidence that you can afford a mortgage and provide a deposit for the property.

Thinking of moving home in Hull?
Are you thinking of buying and selling your home? If so, let our moving home mortgage advisors in Hull help!

Arrange your own free mortgage appointment online. Begin your moving home journey today and we will help you get through it stress-free! Our advisors can't wait to hear from you.
Remortgage for Home Improvements in Hull
Remortgage Advice in Hull
First of all, what actually is a remortgage? A remortgage is when you swap out your current mortgage product for a new one. People usually do it to try and get a better rate of interest.

A remortgage can also be known as a product transfer. The difference between a remortgage and a product transfer is that when you remortgage you take out a new mortgage with a different lender, whereas when you transfer products, you take out a new mortgage with your current lender.

There are many different reasons why someone may want to remortgage/transfer products. At the end of the day, it's all down to what the homeowner wants. Through a remortgage/product transfer you may be able to get a better rate of interest, consolidate your debts into your mortgage, raise capital for things such as home improvements or for something else.

In this mortgage guide, we are going to cover how you can remortgage/transfer products for home improvements.

How does it work?
Before remortgaging, you'll have to calculate the intended costs for the home improvements being made. Depending on how you want to improve your home, the costs may not be quite as much as you expected them to be. This is because when you remortgage to improve your home, the costs are incorporated into your mortgage. This means that your current monthly payments will include both your mortgage and your costs for home improvements. Your overall payments may only increase by a small amount (e.g. as little as an extra £60 per month), depending on how big the home improvements are.

You must consider all of the costs that come with remortgaging for home improvements. Here are some factors that people miss:

Architect's plans and services
Planning permission (Neighbours etc.)
Building costs (Materials, Workers etc.)
The VAT
Building regulation inspections

Why would I want to remortgage for home improvements?
We've seen that the most popular reason for people wanting to remortgage for home improvements is to make more living space. This may be because the homeowners are growing/starting a family or just want more space in general.

The process is simple, can be carried out easily and also saves you from moving home in Hull. Rather than wading through the whole moving home process, if you already love your current home, why move? It often works out much cheaper to remortgage than to move home.

Here are various reasons why you may want to remortgage for home improvements:

Kitchen conversion – If you want a new, modern kitchen, you can remortgage to incorporate the costs for one into your mortgage.
Conservatory – Conservatories are a great place to sit and enjoy the view of your garden without even leaving your home. This is the most popular reason for people remortgaging for home improvements.
Loft conversion – Lofts are also very popular amongst homeowners looking to remortgage for home improvements. A loft allows space for storage or for another bedroom.
Garage – If you need more storage space or want more room for an extra car, a garage extension could be what you need.
Garden extension – Many people don't realise that it's possible to extend their garden through remortgaging. If you want a change of scenery in your back garden, this option could be perfect for you!


Remortgage for home improvements summary
If you are thinking of taking the remortgage for home improvements route, feel free to contact us, we would be more than happy to help. Our team are experts and will give you remortgage advice in Hull exactly when you need it!

Our hardworking team are available 7 days a week so that you can get in touch at a time that best suits you. If you also want to remortgage for another reason, we are still able to help you!
The Costs of Buying a Home in Hull
Moving Home Hull
There are lots of different things to think about before you move home, one of them is the costs involved. Whether you've moved home before or this is your first time in the market, you need to be fully aware of all of the costs of buying a home.
The Costs Involved in Buying a Home
Estate agency fees
You will only have to converse with an estate agent when you are looking to sell a property. If you're going down the purchase route, your Mortgage Broker / Bank / Building Society can sort these things out.

Estate agency prices can vary. If you end up dealing with one, you should make sure that you're getting the best price and service available. Make yourself certain before committing to anything. Sometimes, the cheapest estate agents may have the poorest service.

If you aren't too fussed about the costs and just want a personalised, simple and secure service, it's likely that you'll have to pay an extra 1-2% of your selling price. Usually, these fees are negotiable; particularly in a seller's market where agents are fighting for your instruction because of the lack of houses on the market.

Property survey fees
During your mortgage application, the lender will need to know whether the property you're buying is worth what you are paying for it. They calculate this by carrying out a property survey. In some cases, your lender may offer this service for free, however, they may not send you a copy of the report.

If you do not get offered a free valuation, you may need to pay, on average, a few thousand pounds for one. If you want to take it another step further, you can upgrade to an in-depth Homebuyer's Report. This survey is at the top of the range and you should expect to pay a four-figure sum for them.

A great thing about going to a Mortgage Broker in Hull like us is that we will break down each survey and help you make a decision on which one is the best for you. If the property that you're buying is old or not in the greatest condition, you should maybe consider switching to a more detailed property survey, just to make sure that you know exactly what you're paying for. You will also know what needs replacing/repairing as soon as you move in.

As a Mortgage Broker in Hull, we've often found that the cost to upgrade a property survey is a fraction of what it would cost you for repairs over the years. So rather than buying a property blind, you could upgrade and end up saving yourself a fortune in the future.

Mortgage arrangement fees
Usually, mortgages that come with lower interest rates often come with high set-up fees. Some lenders will charge you a mortgage arrangement fee for… well, arranging your mortgage.

This fee can range anywhere from zero to a few thousand pounds. If you choose to go with a Mortgage Advisor in Hull, they will work with you and recommend you with the best and cheapest product that will meet your mortgage needs. They will consider all of the other costs that come with getting a mortgage and try their best to save you money.

When you are taking out a mortgage, you'll always want to try and get the lowest interest rate possible. If you know how interest rates work, your payments will only increase at an exponential rate.

Lenders can also add an arrangement fee to your mortgage. If this happens, you should know that this is now a part of your mortgage so it will also start receiving interest and add up over your mortgage term.

Solicitor fees
A solicitor will be needed to help your mortgage application progress through the legal parts of the process. They will check things such as, does the seller actually own the property that you're buying, who is responsible for maintaining adjoining fences, walls etc and whether anyone has lodged any plans (for example to build future transport links). These sorts of things need to be confirmed as if there is anything wrong with the property, it could affect your ability to sell it in the future.

The pricing for each solicitor varies, some may be around a thousand pound, some may be more, some less. You will also need to remember to check whether the quote includes VAT and local searches.

As a Mortgage Broker in Hull, we always advise that you be careful when selecting a solicitor as not all of them will work with every single lender. You want to choose the best lender that will save you time and money, let us help you find them!

Stamp duty
Stamp duty is a tax that comes with purchasing a home within a certain price range. The way that it usually works is that the more that you pay for your house, the greater the stamp duty tax you'll receive.

The stamp duty guidelines and property price thresholds change from time to time, so if you are wanting to find out whether you'll have to pay it or not, you should check the stamp duty government page.

If you fall into a stamp duty tax bracket, it's likely that you'll pay it upon completion to your solicitor. They will then make the payment to the government on your behalf.

Mortgage broker fees
A Mortgage Broker in Hull will charge you for their services. Most of them will not charge you an upfront cost and will offer a free mortgage consultation like us!

When they charge you for their work, the cost of the fee will typically be a percentage of what the lender pays the broker for the work they do on their behalf. Most Mortgage Brokers will only charge you if your mortgage application is successful and you receive a formal offer.

Removal fees
Moving Home can be stressful enough, so don't make it even worse! Have you thought about how you are going to transfer your furniture and your household items between properties?

In our experience, we can tell you that hiring a removal van may cost a little extra but will make your Moving Home process ten times easier. They are experts at the end of the day and they will help you move everything from A to B.

Moving Home Advice in Hull
For Moving Home Advice in Hull or First Time Buyer Mortgage Advice in Hull, make sure to get in touch with our team. We offer a free mortgage consultation in Hull, so feel free to take advantage of it.
Getting Prepared for a Mortgage in Hull
Once you've saved enough for mortgage deposit, the next step is preparation. Before you are ready to start your process, make sure your mortgage application is in the best position. If you are a First Time Buyer in Hull, you will find this guide very beneficial to aid you with your mortgage application. Also, this article will feature helpful tips to speed up your mortgage application for those looking to Remortgaging or Moving Home in Hull.
Get Mortgage Ready in Hull
Up-to-date credit report
The first thing you should do is obtain an up-to-date credit report. Having an up-to-date credit report is essential for you to provide during mortgage application; ideally, you should try and get yours arranged prior to speaking with a Mortgage Broker in Hull. Your report will be reviewed by one of our Mortgage Advisor in Hull before forwarding you to a suitable lender.
Agreement in principle
Another thing that you should do before making an offer on a property is obtain an agreement in principle. The good news is getting in touch with an expert Mortgage Broker in Hull like ourselves, we can often turn around an agreement in Principle within 24 hours of your initial appointment.
Proof of ID
Make sure to produce a photo ID, the required documents will have to be photo identification such as a Driving License or Passport – though if you're using one for proof of ID then it can't be used as proof of address. If you are a non-UK national working in England on a Visa then this will also need to be presented.
Proof of Address
You will also be required to prove where you live. This is usually in the form of a utility bill or bank statement within the last 3 months.
Last 3 months' bank statements
Your bank statements should reflect your income and regular expenditures. It will be a displeasure to Lenders if they see gambling transactions on your account and they will also not be happy if you are seen to have surpassed an agreed overdraft limit or your direct debits have bounced regularly. The key factor is to get ahead of the game and get prepared as best as you can.

Not all lenders will ask to see your Bank Statements but it is an option that is available to them if they choose to utilize it – regardless of whether they do ask for your bank statements, they want to be confident that you take your finances seriously. The bank statements which you produce should consist if your salary going in and your bills going out.
Evidence of deposit
A vital step in the mortgage application is evidencing your deposit for Anti-Money Laundering purposes. To help the process it is best not to move finances around your accounts too much as this will make it a lot more difficult and may delay the process.

Lenders like to see that you are saving your money responsibly, but that doesn't exempt you from having to account for any large recent deposits into your accounts.

If you have been gifted a deposit, then there will need to be written confirmation stating it's a non-refundable gift.
Proof of income
The most pivotal point of the application is proving your income. If you're in employment then sufficient evidence would be your last 3 months' payslips, though some lenders will also ask for your most recent P60. Lenders will take into account regular overtime, commission, shift allowance and bonuses. Additionally, extra earnings may also be considered with some lenders such as part-time jobs or self-employment.

Many applicants are Self Employed in Hull nowadays – if you are a self-employed applicant then you may mean you will need to acquire your Accounts' help to request your last two or three years' proof of earnings from the Revenue. If you submit your own accounts then feel free to get in touch and we will be happy to advise you on how to go about downloading from the Government Gateway. 
Budget planner
By working out an estimate of your expected outgoings after you move house means you can gain an idea of how much disposable income will be available to you to pay your mortgage after such things as regular expenditures, council tax, and utility bills have been paid out from your account. To help you with this, we are happy to send you our version of a Budget Planner to get you started.

As seen, there are many steps you must take in order to prepare fully for your mortgage application deeming it not an easy feat but it doesn't mean you should worry. If you approach the mortgage application with due timing and an organized matter along with a Mortgage Broker in Hull, you will be in safe hands.
Moving House Mortgage Advice in Hull
What is a 95% Mortgage?
A 95% mortgage is what it says on the tin; you are borrowing against 95% of a property's price, covering the remaining 5% with your deposit. An example of this is if you looked at buying a property worth £150,000 with a 95% mortgage, you would put down £7,500 as your deposit and borrow the remaining £142,500.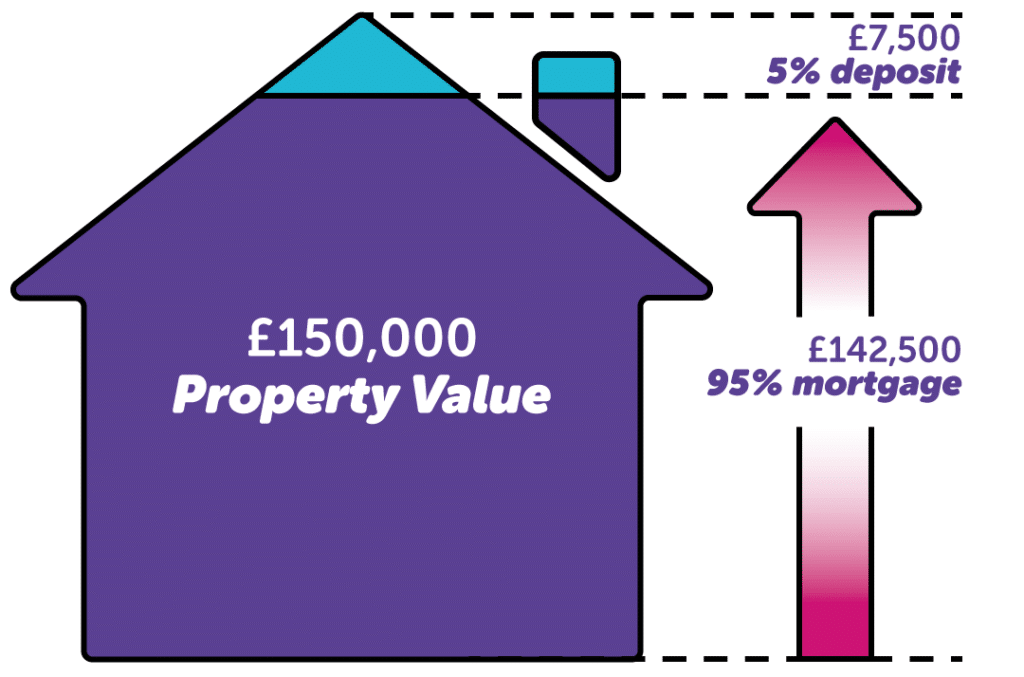 95% Mortgage Advice in Hull
With the March 2021 Budget, Boris Johnson announced a Mortgage Guarantee Scheme for Lenders, making 95% mortgages more readily available from the big banks.

This is great news for both first-time buyers and home movers as this will run until December 2022. Certain terms and conditions will apply, your Mortgage Advisor in Hull will be able to see if you qualify.

All our customers receive a free, no-obligation mortgage consultation where we will be able to recommend the best mortgage deal based on your individual situation.
Can I get a 95% mortgage?
95% mortgages are generally available to both First-Time Buyers in Hull & people who are looking at Moving Home in Hull. Whilst the idea of saving for a 5% deposit sounds easy enough, you'll still need to have a sufficient credit score and prove that you can afford your monthly mortgage repayments, in order to be granted a 95% mortgage.
Improving your credit score
A good credit score is the key to obtaining any mortgage, especially a 95% mortgage. Things like paying any existing credit commitments on time, ensuring your addresses are up-to-date and that you're on the voter's roll, can all help build this up. For a more in-depth look at what you can do and why, please see our How to Improve Your Credit Score article.
Affordability
Affordability is another one that is key. By providing details of your income and monthly outgoings (things like your bank statements will be necessary for this) and any pre-existing credit commitments, your lender will get a good idea of whether or not you are able to afford this type of mortgage.

Can my family help me get a 95% mortgage?
It's very popular these days for family members to help each other get onto the property ladder, especially parents looking to further their children. This can be achieved by gifting the person looking to find their home, the deposit required for the property. Known by some as the "Bank of Mum & Dad, Gifted Deposits work purely as a gift, and not as a loan. The lender will need proof that this is the case, before it can be used towards your mortgage. 
How do I choose the right 95% mortgage?
When looking for a 95% mortgage, you want to make sure you're on the right one. Each different mortgage type works in its own unique way, allowing you to find one that is best suited for your personal and financial situation.

You could find that you prefer Fixed Rate or Tracker Mortgages, wherein you either keep interest rates at a set amount for the term or have your interest rates follow the Bank of England base rates.

Alternatively, you might find that you're better suited for an Interest-Only or a Repayment Mortgage. The former of which allows cheaper payments until you need to pay a lump sum at the end (more suitable for Buy-to-Lets) and the latter of which means you'll be paying interest and capital combined per month.

You can read more about these in our Different Types of Mortgages article, with accompanying videos.
How can a bigger deposit help with my mortgage?
As with anything involving such a large financial outgoing, you need to be prepared and need to be wary. Things that might crop up, include higher interest rates, remortgaging difficulties due to less equity and then negative equity.

The good news here is that all these can be avoided if you're savvy enough with your initial process. The more deposit you put down, the less risk you are to the lender.

A larger deposit, of say 10-15%, would not only lower your interest rate significantly but would also put more equity in the property and reduce the risk of negative equity as you would be borrowing less against the property in question.

So, whilst the risks seem daunting at first, planning ahead and saving for a bigger deposit to access something like a 90% or even an 85% mortgage will be a definite lifeline and something you'll be able to reap the rewards from.
Budget 2021 Mortgage Market Overview
Following the 3rd March 2021 Budget, we got a handful of positive news and found out how the economy is going to recover from the effects of COVID-19.

Chancellor Rishi Sunak provided some information on how he's going to get the mortgage market back on its feet. It's news that we've been looking forward to for quite some time; the only way is upwards now!
95% mortgages are coming back!
90% mortgages crept back into the market in October 2020. During this time, it seemed like it wouldn't be a while until you could access 95% LTV mortgages.

However, after the recent 2021 Budget, we learnt that 95% are making their return to the market once and for all. The name of the scheme is a tiny bit misleading as not everyone that applies is going to be guaranteed a mortgage. Lenders are still going to assess your credit score and make sure that you are going to be able to afford a mortgage alongside all of your other financial commitments. Of course, Lenders never want to repossess someone's home unless it is the last resort, but if that happens then the new scheme would cover any shortfall.

Lenders have been worried about the prospect of home values decreasing so this measure should alleviate that concern although of course, the chances of negative equity occurring will naturally reduce should property prices increase as a result of these announcements.

The Chancellor announced that both First Time Buyers and Home Movers will have access to this scheme. It can also be used on any property too, not just new builds.

The scheme will be available from April 2021 and will run until December 2022, and according to Sunak, many credible and huge lenders are already backing the scheme.

As a Mortgage Broker in Hull, we are delighted to hear this news and are excited to see what the market has to offer over the next month.

Stamp duty holiday extension
On top of 95% mortgages making their way back into the market, the stamp duty holiday has been extended until 30th June 2021.

When the stamp duty holiday was introduced last year, we all hoped that life would be very much back to normal by now, however, things didn't pan out the way that they were expected to. Solicitors are struggling to keep up with the workload and if lots of chains had collapsed then it would have partly defeated the objective of trying to push people to carry on progressing their Moving Home journey.

To keep the property market running and to carry on home purchases, the government have decided to extend the stamp duty holiday. Property purchases up to £500,000 will remain tax-free until 30th June 2021 and those up to £250,000 will remain tax-free until September 30th 2021.
Current stamp duty rates
Property value < £500,000 – no stamp duty
Property value £500,001 – £925,000 – 5%
Property value £925,001 – £1,500,000 – 10%
Property value > £1,500,000 – 12%

Mortgage market update
Now that the market is getting back on track and 95% mortgages are slowly making their return, we're hoping that this is the sign that we needed that things are returning to somewhat normal for us. In no doubt, there'll still be a while before things completely turn back to "normal", but this is a start for the property market. The Government certainly sees the property sector as an area that can play a big part in our economic recovery.

The government seem keen on wanting people to transition back into buying over renting by introducing this new "mortgage guarantee" scheme. Seeing this news as a Mortgage Broker in Hull brings us nothing but hope and positivity.

Remember that we are still open and here to answer all of your mortgage questions. In Hull, we are available 7 days a week so don't hesitate to get in touch and get your process started.